Truck Driving Championships
TXTA's 2022 State Truck Driving Championships took place on June 4 at Texas State Technical College (TSTC) in Waco. Seventy drivers competed in the driving contest at the TSTC Airport. The winners of the truck driving championship will move on to compete in the National Truck Driving Championship in Indianapolis, Indiana in August. TXTA will recognize the winners of the truck driving championships at the Safety and Maintenance Awards Luncheon taking place at TXTA's Annual Conference on July 28. Visit TSTC's website to read more about the competition.
The 2022 ATA National Truck Driving Championships will take place August 16–20 in Indianapolis, Indiana. Competition at the national level will include the first place winners in each class of competition from the state championships. ATA qualification rules for nationals must be met. To learn more about the ATA National Truck Driving Championships, please visit ATA's website.
The Truck Driving Championships are a project of the TXTA Safety Management Council (SMC), the local Safety Councils and TXTA Fleet Maintenance Council (FMC) that seek to promote safety and professionalism among commercial drivers. Three regional championships and one statewide championship are held in the spring with drivers qualifying for national competition. Drivers are tested on their ability to maneuver and control their vehicles under a number of difficult test situations.
---
Congratulations Team Texas 2022!
Grand Champion & Straight Truck
Dennis Mace
FedEx Freight
---
3 Axle
David Urrea IV
HEB
5 Axle
Mario Gonzales, Jr.
HEB
4 Axle
Eduardo Camacho
HEB
Tanker
Randy Gamez, Jr.
HEB
Flatbed
Noe Gomez
HEB
Sleeper
Robert Gonzalez
FedEx Freight
Straight Truck
Dennis Mace
FedEx Freight
Twins
Ronald Ramon
HEB
Step Van
Luis Tarin
FedEx Ground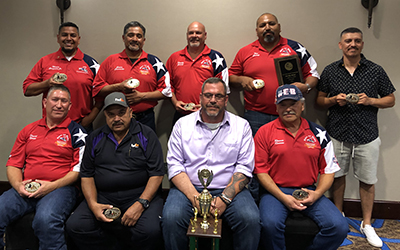 ---
Back to Contest and Award Programs