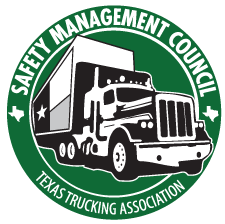 Safety Management Council
The Safety Management Council (SMC) consists of fleet safety personnel. The council sponsors a variety of activities to educate its members about new developments in safety and encourages professional driving to promote a better public image for the trucking industry.
SMC Officers
Angela Lam, Chairwoman
Cheetah Transportation Systems, Inc. angela@cheetahtransportation.net
Steve Blake, 1st Vice Chairman
Statewide Materials Transport Leasing Ltd. stevenablake@outlook.com
Van Trimble, 2nd Vice Chairman
Brookshire Grocery Co. vantrimble@brookshires.com
Steve Wilhelms, 3rd Vice Chairman
TVC Pro-Driver swilhelms@prodriver.com
Kenny Ray, Secretary/Treasurer
Cline Wood, a Marsh McLennan Agency kenny.ray@marshmma.com
---
SMC SeminarS
Fall 2023: September 27–29, in San Marcos at the Embassy Suites
---
Spring 2023 Wrap Up
SMC held the spring seminar on March 29–31, 2023, at the Waco Hilton. Topics included the current legislative session, understanding the jury perspective and how to avoid nuclear verdicts, driver shortage, managing safety, selecting an emergency response provider, and updates from USDOT, TxDOT and U.S. Border Patrol, including the new proposed CSA scoring system, the Clearing House, Mexican CDLs and border issues and activities. Thanks to all of our speakers: Juan R. Fuentes, The Fuentes Firm, Paul Murphy, Murphy Legal, Ed Brady, ENR Consulting, Ryan Koons, Koons Trucking, John Gusman, Mission Petroleum Carriers, Kenny Ray, Cline Wood, a Marsh McLennan Agency, Kevin Johnston, Lone Star Hazmat, Arlo De Los Santos, Border Patrol Agent, Jeff Langloss USDOT, and Captain Omar Villarreal, Sergeant Richard Reid and Rebecca Ramirez, TxDPS.
To kick off the conference, eight candidates appeared before our Safety Certification Interview Board in consideration for director-level certification. All successfully completed the interview and were granted Director Level Certification in the TXTA National Motor Transportation Safety Certification program. This was the largest group of candidates to appear before the board and each were presented their certificates during the conference. Congratulations to the following certification recipients:
Sara Beers, Genox Transportation, Inc.
James Burleson, Grace Freight, LLC
John Fleck, Jr., Williams Brothers Construction
Charlie Maloy, Pulido Transport
Joe Maple, LSP Transport, LLC
David Serach, Chalk Mountain Services
Sam Pogue, R.B. Stewart Petroleum Products Inc.
Glen Snitker, Tex-Con Oil Co.
---
Fall 2022 Wrap Up
TXTA SMC held the fall seminar on October 4-6 at the Embassy Suites in San Marcos. More than 170 attendees received key information on a variety of topics including the latest on the passage of House Bill 19, entry-level driver training, drug/alcohol testing issues and circumstances as well as updates from the USDOT and the TxDPS. Keynote speaker, Jaeson Jones, a nationally recognized authority on counterterrorism, addressed issues including the Mexican cartel and border security. If you missed Jaeson at SMC, you'll have the chance to see him at the TXTA Annual Conference in San Antonio next July.
During the awards dinner numerous individuals were recognized for their contributions to the trucking industry, their companies, TXTA and SMC. Congratulations to the following award recipients:
Jeff Hackett, Gulfmark Energy, received his Certified in Fleet Safety Certification at the Director Level
Thes Freeney, Brookshire Grocery Company, was recognized as TXTA's 2022 Driver of the Year
Van Trimble, Brookshire Grocery Company, was recognized as the 2022 Distinguished Safety Award recipient
Kenny Ray, with Cline Wood, a Marsh & McLennan Agency was presented the C.H. Cheshire Safety Award
Bubba Fiveash, with Great West Casualty Co., was presented the SMC Excellence in Service Award
The seminar concluded with the closing luncheon where outgoing SMC Chairman Gene Davis, with Alamo Transit Co., was recognized for his 2021–22 leadership term.
Also recognized were the incoming SMC officers for 2022–23: Chairwoman Angela Lam, Cheetah Transportation; 1st Vice Chairman Steve Blake, Statewide Materials Transport Leasing LTD; 2nd Vice Chairman Van Trimble, Brookshire Grocery Company; 3rd Vice Chairman Steve Wilhelms, TVD Pro-Driver; Secretary/Treasurer Kenny Ray, Cline Wood, a Marsh McLennan Agency
---
Safety Council Chapter Meetings
Dallas/Fort Worth Council of Safety Professionals
Ryan Koons, Chairman
Meets Monthly on 2nd Tuesday, Spring Creek BBQ, 11:00 am to 12:00 pm
East Texas Council for Trucking Professionals
Kevin Riley, Chairman

Meets Quarterly on 2nd Tuesday (January/April/July/October), Bruno's Pizza and Pasta, 12:00 pm to 1:00 pm
Houston Council of Safety Professionals
Geo Cuellar, Chairman
Meets Monthly on 2nd Friday, Blue Bayou Restaurant, 11:30 am to 1:00 pm
* Starting in February 2023 the location will change to Battleground Golf Course: 1600 Georgia Ave, Deer Park, TX, 77536
Council of Safety Professionals San Antonio Region
Richard Miyauchi, Chairman
Meets Monthly on Last Tuesday, Blanco BBQ, 11:30 am to 1:00 pm
West Texas Council of Safety Professionals
Kara Vines, Chairman
Meets Monthly on the 3rd Tuesday, The Legendary Barn Door Steakhouse, 11:30am to 1:00pm.
---
National Motor Transportation Certification Program
The National Motor Transportation Certification Program for Practicing Professionals in the Transportation Industry is established under the TXTA, TXTA's Safety Management Council, TXTA's Fleet Maintenance Council and the University of North Texas. The purpose of the Certification Program is to implement a comprehensive plan of accreditation and certification for individuals in the fields of motor carrier safety or maintenance; to identify those individuals that have met the criteria for accreditation; and to promote the intellectual development of those individuals, organizations, and institutions involved in motor carrier safety or maintenance.
For additional information, please contact Lance Shillingburg lance@texastrucking.com
---
History
In 1953, member companies of Texas Motor Transportation Association (TMTA), now Texas Trucking Association (TXTA), created the TMTA Texas Council of Safety Supervisors, now TXTA Safety Management Council (SMC), as a cooperative effort to develop industry standards in safety education, driver development, image enhancement, loss prevention and other topics to strengthen quality performance within the industry. Strong safety networking was established between carrier members and participants within the council. In addition to education sessions, action programs were created that fostered cooperative work efforts among council members who worked together with the compliance enforcement bodies on projects designed to promote compliance, reduce losses, improve quality and safety, as well as enhance the public image of the trucking industry. Each year since 1962, the Safety Council Program has received the Summa Cum Laude Award, the highest safety award possible, from American Trucking Associations (ATA) in recognition of the continued involvements and accomplishments of the SMC.
---
Award Programs
SMC recognizes council members, law enforcement officers, companies, drivers and technicians through a variety of awards and contests. These programs reward individuals who go above and beyond to promote safety and professionalism, as well as exemplify a strong dedication to the trucking industry. SMC awards and competitions include the Distinguished Safety Award, Excellence in Service Award, TXTA Driver of the Year, Truck Driving Championships, Truck Safety Award and C.H. Cheshire Award.