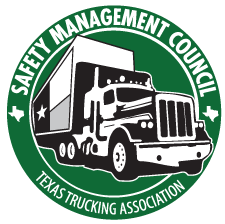 Safety Management Council
The Safety Management Council (SMC) consists of fleet safety personnel. The council sponsors a variety of activities to educate its members about new developments in safety and encourages professional driving to promote a better public image for the trucking industry.
History
In 1953, member companies of Texas Motor Transportation Association (TMTA), now Texas Trucking Association (TXTA), created the TMTA Texas Council of Safety Supervisors, now TXTA Safety Management Council (SMC), as a cooperative effort to develop industry standards in safety education, driver development, image enhancement, loss prevention and other topics to strengthen quality performance within the industry. Strong safety networking was established between carrier members and participants within the council. In addition to education sessions, action programs were created that fostered cooperative work efforts among council members who worked together with the compliance enforcement bodies on projects designed to promote compliance, reduce losses, improve quality and safety, as well as enhance the public image of the trucking industry. Each year since 1962, the Safety Council Program has received the Summa Cum Laude Award, the highest safety award possible, from American Trucking Associations (ATA) in recognition of the continued involvements and accomplishments of the SMC.
---
SMC Officers
Gene Davis, Chairman
Alamo Transit Co. gdavis@alamotransit.com
Angela Lam, 1st Vice Chairman
Cheetah Transportation Systems, Inc. angela@cheetahtransportation.net
Steve Blake, 2nd Vice Chairman
Statewide Materials Transport Leasing Ltd. stevenablake@outlook.com
Van Trimble, 3rd Vice Chairman
Brookshire Grocery Co. vantrimble@brookshires.com
Steve Wilhelms, Secretary/Treasurer
TVC Pro-Driver swilhelms@prodriver.com
---
Safety Seminars
The council hosts a fall seminar and spring seminar, as well as one in conjunction with the TXTA Annual Conference, while full council meetings are held throughout the year. Attendees are not required to be members of TXTA or SMC—however, TXTA members receive discounted registration rates. Additionally, there are regional safety council chapters in Houston, Dallas/Fort Worth, San Antonio and East Texas (Tyler).
Spring Seminar
March 23–25, 2022
Hilton Waco
113 S University Parks Drive
Waco, TX 76601
Fall Seminar
October 4–6, 2022
Embassy Suites in San Marcos
1001 E McCarty Lane
San Marcos, TX 78666
---
Safety Council Chapter Meetings
Houston Council of Safety Professionals
Roger Krenek, Chairman
Meets Monthly on 3rd Friday, Blue Bayou Restaurant, 11:30 a.m. to 1:00 p.m.
Dallas/Fort Worth Council of Safety Professionals
Gary Babbitt, Chairman
Meets Monthly on 2nd Tuesday, Spring Creek BBQ, 11:00 a.m. to 12:00 p.m.
Council of Safety Professionals San Antonio Region
Gene Davis, Chairman
Meets Monthly on Last Tuesday, Blanco BBQ, 11:30 a.m. to 1:00 p.m.
East Texas Council for Trucking Professionals
Kevin Riley, Chairman

Meets Quarterly on 2nd Tuesday (January/April/July/October), Bruno's Pizza and Pasta, 12:00 p.m. to 1:00 p.m.
---
National Motor Transportation Certification Program
The National Motor Transportation Certification Program for Practicing Professionals in the Transportation Industry is established under the TXTA, TXTA's Safety Management Council, TXTA's Fleet Maintenance Council and the University of North Texas. The purpose of the Certification Program is to implement a comprehensive plan of accreditation and certification for individuals in the fields of motor carrier safety or maintenance; to identify those individuals that have met the criteria for accreditation; and to promote the intellectual development of those individuals, organizations, and institutions involved in motor carrier safety or maintenance.
For additional information, please contact Lance Shillingburg lance@texastrucking.com
---
Award Programs
The Safety Management Council recognizes council members, law enforcement officers, companies, drivers and technicians through a variety of awards and contests. These programs reward individuals who go above and beyond to promote safety and professionalism, as well as exemplify a strong dedication to the trucking industry.