Fleet Maintenance Council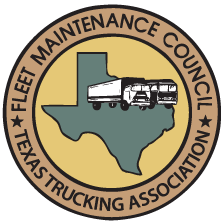 A Well-Maintained Vehicle is a Safe Vehicle
The Fleet Maintenance Council (FMC) was established for the exchange of ideas and information about new developments in maintenance and related subjects. The council strives to improve the skills of professional maintenance personnel and has established a close relationship with regulatory agencies. The FMC consists of fleet maintenance supervisors, representatives of manufacturers of transportation equipment and components as well as various law enforcement officials. The council meets once per year at the annual fall seminar and cosponsors a number of activities throughout the year.
---
FMC Executive Committee
Bryant Hendricks, Chairman
Cardinal Logistics bhendricks@cardlog.com
Jordan Proefrock, Vice Chairman
Lone Star Transportation jordan.proefrock@lonestar-llc.com
Justin Munoz, Allied Chairman
Love's Travel Stops justin.munoz@loves.com
Brandon Flaming, Allied Vice Chairman
Southwest International Trucks Brandon.Flaming@swit-tx.com
---
FMC Seminar
2022 Wrap Up
TXTA FMC held their annual seminar October 25–27 in Waco. Attendees received key information regarding HB 19, legal issues regarding maintenance programs, OSHA information, proper brake maintenance, tire failures, DPS updates and the latest in oil technology. Please click on the link below to view seminar presentations.
During Technician of the Year Luncheon, FMC recognized Corey Tegeler, Old Dominion Freight Line, as the 2022 Technician of the Year recipient. During the awards dinner, Sid Stewart, recently retired from Southwest International Trucks, was recognized as the 2022 FMC Leadership Award. We thank Sid for his contributions to the trucking industry, TXTA and FMC.
The seminar concluded with the recognition of FMC Executive Committee Officers. FMC Chairman Joe Stevens, Southern Star Transport, was recognized for his 2020–22 leadership term. Also recognized were the incoming FMC Officers for 2022–23:
Chairman: Bryant Hendricks, Cardinal Logistics
Vice Chairman: Jordan Proefrock, Lone Star Transportation
Allied Chairmen: Justin Munoz, Love's Travel Stops and Brandon Flaming, Southwest International Trucks
---
National Motor Transportation Certification Program
The National Motor Transportation Certification Program for Practicing Professionals in the Transportation Industry is established under TXTA, TXTA's Safety Management Council, TXTA's Fleet Maintenance Council and the University of North Texas. The purpose of the Certification Program is to implement a comprehensive plan of accreditation and certification for individuals in the fields of motor carrier safety or maintenance; to identify those individuals that have met the criteria for accreditation; and to promote the intellectual development of those individuals, organizations, and institutions involved in motor carrier safety or maintenance.
For more information, contact Lance Shillingburg lance@texastrucking.com