Fleet Maintenance Council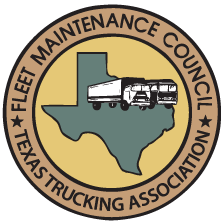 A Well-Maintained Vehicle is a Safe Vehicle
The Fleet Maintenance Council (FMC) was established for the exchange of ideas and information about new developments in maintenance and related subjects. The council strives to improve the skills of professional maintenance personnel and has established a close relationship with regulatory agencies. The FMC consists of fleet maintenance supervisors, representatives of manufacturers of transportation equipment and components as well as various law enforcement officials. The council meets once per year at the annual fall seminar and cosponsors a number of activities throughout the year.
---
2021 FMC Executive Committee
Eric Smith, Chairman
Trinity Logistics Group eric.smith@trin.net
Joe Stevens, 1st Vice Chairman
Southern Star Transport joseph@ssttex.com
Bryant Hendricks, 2nd Vice Chairman
Cardinal Logistics bhendricks@cardlog.com
Curtis Keith, 3rd Vice Chairman
CKJ Transport LLC ckeith@ckjtransport.com
Todd Randolph, Allied Chairman
Yokohama Tire Corp. todd.randolph@yokohamatire.com
David Tyree, Allied Chairman
Cummins Sales and Service david.g.tyree@cummins.com
---
FMC Seminar
October 4–6 2022, Waco Hilton
The FMC Fall Seminar offers educational opportunities to fleet supervisors and managers in the areas of fleet maintenance and equipment repair. During this two and a half days event, attendees have the opportunity to develop contacts statewide and the exchange of ideas and information about new developments is encouraged.
For more information and registration, click here to visit the TXTA Event's page.
---
National Motor Transportation Certification Program
The National Motor Transportation Certification Program for Practicing Professionals in the Transportation Industry is established under TXTA, TXTA's Safety Management Council, TXTA's Fleet Maintenance Council and the University of North Texas. The purpose of the Certification Program is to implement a comprehensive plan of accreditation and certification for individuals in the fields of motor carrier safety or maintenance; to identify those individuals that have met the criteria for accreditation; and to promote the intellectual development of those individuals, organizations, and institutions involved in motor carrier safety or maintenance.
For more information, contact Lance Shillingburg lance@texastrucking.com