TXTA Foundation academic scholarship applications are now closed and will open again in the spring of 2023. Technical and Trade School scholarship applications are open year-round. Click the link below to be directed to a technical/trade school application. For questions regarding scholarship applications or more information, please contact Kimberly Leggett kimberly@texastrucking.com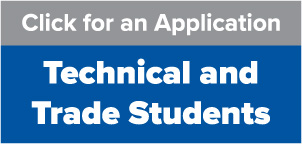 ---
About
Drivers, dock workers, mechanics, office personnel—there are thousands of people each day who contribute to a strong, efficient motor transportation industry in Texas. Many of these workers are or have dependents pursuing higher education. TXTA Foundation eases the financial burden of their efforts by providing scholarships to current TXTA member employees, their dependents and grandchildren.
Eligibility
Employee and employee dependents, children, spouses and/or grandchildren of current TXTA carrier or allied member companies in good standing
High school seniors (graduate or equivalent), current university, college, trade and technical school students
Applicants must complete the online application by the published deadline and include personal narrative, official transcripts and letters of recommendation
Selection
Applications are reviewed by the TXTA Foundation Board of Trustees. Scholarships are awarded based on personal narrative, academic achievement, community involvement, financial need as well as other qualifications. Scholarship funds are mailed directly to the school upon verification of enrollment and funds are divided equally between semesters. Funds may be used to meet such expenses as tuition, books, housing and supplies.