FMC Leadership Award
Congratulations 2022 Recipient Sid stewart!
---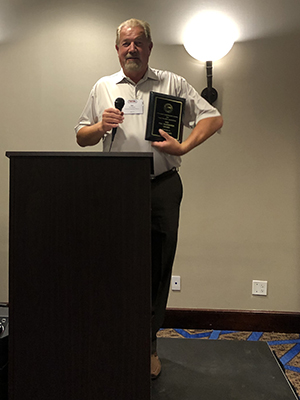 Recipients
2022 Sid Stewart, Southwest International Trucks Inc.
2019 Mark Xepoleas, Eaton Cummins Automated Transmission Technologies
2018 Tom Cousens, Meritor Heavy Duty Vehicle Systems
2016 John Goines, Eaton
2015 Ken Buchheit, Cummins Southern Plains
2014 Buddy Carmichael, C&R Trailer Repair
2013 Sandy Crimm, Cummins Southern Plains
2012 Revis Parkison, Dallas Peterbilt
---
Eligibility
In 2011, the TXTA Fleet Maintenance Council (FMC) Executive Committee established an award to honor an individual who best exemplifies the willing dedication to be of service to the motor transportation industry, the TXTA FMC, his or her company and the motoring public. The recipient is one who has demonstrated the qualities of interest, enthusiasm and leadership in achieving these multiple goals.
Nominees must be a member of TXTA and TXTA FMC. Nominees may be either employed full-time or retired from a TXTA member company. They must have served the Motor Transportation Industries and TXTA FMC continuously for a minimum of five (5) years. This includes members from motor carriers, allied companies and law and regulatory enforcement. Nominees must be domiciled in Texas. Previous award winners may not again be nominated.
Judging of nominations shall be based upon the professional qualifications of the nominee, success in advancing the cause of TXTA, TXTA FMC and highway and industrial maintenance. The nominee shall also be judged on his/her work and leadership in activities of TXTA and TXTA FMC and/or other organizations of maintenance professionals in which the nominee holds active membership. For more information, please contact Lance Shillingburg lance@texastrucking.com
---
Back to Contest and Award Programs