Excellence in Service Award
Congratulations 2022 Recipient Bubba Fiveash!
---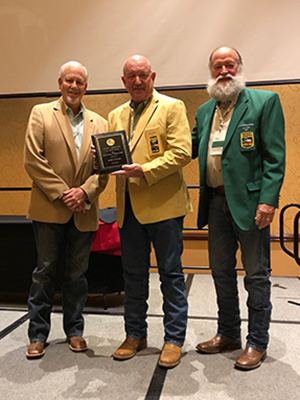 Eligibility
The Excellence in Service Award is presented to an individual who best exemplifies the willing dedication to be of service to the Safety Management Council (SMC), the industry, their company and the motoring public.
The judging of nominations shall be based upon the professional qualifications of the nominee, success in advancing the cause of TXTA, the TXTA SMC and highway and industrial safety. The nominee shall also be judged on his/her work and leadership in activities of TXTA, SMC and/or other organizations of safety professionals in which the nominee holds active membership.
Nominee must be a member of TXTA and TXTA SMC either employed full-time or retired from a member company. They must have served in the motor transportation industries and TXTA SMC continuously for a minimum of seven years. This includes members from motor carriers, allied companies, and law and regulatory enforcement.
Nominations, which are unsuccessful in any given year, may be resubmitted the following year by bringing the requirement information up to date at of the time of resubmission. In addition, all nominees must be domiciled in Texas. For more information, please contact Lance Shillingburg lance@texastrucking.com
---
Recipients
2022 Bubba Fiveash, Great West Casualty Company
2021 Arty Bentch, J.J. Keller and Associates
2018 Ben Johnson, DISA Global Solutions
2018 Steve Wilhelms, InfoStream, an EBE Technology Company
2017 Bo Duval, Great West Casualty Co.
2012 Larry Miller, Great West Casualty Co.
2010 Mike Honeycutt, Transafe Inc.
2009 Scott Sullins, Great West Casualty Co.
2008 Ray Martin, Utility Trailer Sales
---