Technician of the Year
TXTA's Technician of the Year Contest took place on June 4 at Texas State Technical College (TSTC) in Waco. Twenty-four technicians from throughout Texas competed at the Waco campus' Diesel Equipment Technology building. TXTA recognized the winners at the Safety and Maintenance Awards Luncheon during TXTA's 2022 Annual Conference. Visit TSTC's website to read more about the competition.
The Technician of the Year Contest was initiated in 1982 by TXTA FMC to recognize the contributions of outstanding mechanics of the heavy vehicle fleet maintenance industry. This contest evaluates the mechanic's knowledge of their trade and ability to utilize that knowledge on basic mechanical problems.
The 2022 contest is sponsored by Eaton Cummins Automated Transmission Technologies and TXTA Fleet Maintenance Council (FMC). 2022 prizes for state winners included: 1st Place • $1,500 plus a trip for two to Las Vegas and commemorative ring; 2nd Place • $1,000; 3rd Place • $750; 4th Place • $500; and 5th place • $250. All prizes are courtesy of Eaton Cummins Automated Transmission Technologies.
The first place winner from the state contest will advance to ATA's Technology & Maintenance Council's National Technician Skills Competition—TMCSuperTech—in Cleveland, Ohio. Please visit trucking.org/tmc-super-tech for national competition information.
---
2022 Technician Champions
First Place
Corey Tegeler
Old Dominion Freight Line, Inc.
Second Place
Michael Kerfoot
Dickinson Fleet Services
Third Place
Bart Prescher
Walmart
Fourth Place
Christopher Gerrald
TravelCenters of America
Fifth Place
Beau Hanly
Southwest International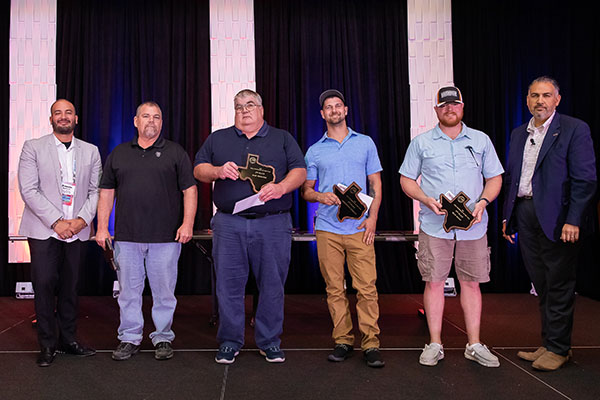 ---
Back to Contest and Award Programs